When:
May 15, 2021 @ 6:00 pm – May 25, 2021 @ 6:00 pm
2021-05-15T18:00:00-04:00
2021-05-25T18:00:00-04:00
Where:
Online
https://www.bardicwar.com/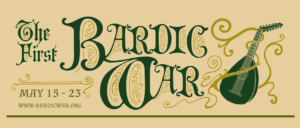 Come one, come all!
To the First Bardic War!
This is an interkingdom virtual event which you can watch via zoom during the week of May 15-23.
We're showcasing the many talents of our populace with a week-long performing arts war! Whether your talents lie in writing, research, teaching, singing, dancing, acting, laughing, or…  there's an opportunity for you to share it with the Knowne World!
The First Bardic War will be held virtually on May 15 – 23, A.S. LVI (56 / 2021). Participants have the opportunity for live or recorded content, dependent on entry type.
For questions concerning volunteering, please email: BardicWarVolunteerCoordinator@gmail.com
See the site header to access volunteer forms.