Hello! If you're reading this, you have access as an author to this site! Thank you for your service!
This page should provide an overview of how you can contribute to the Baronial website.
HOW TO LOG IN
Go to: https://endewearde.eastkingdom.org/wp-admin/
Use your BARONIAL OFFICER EMAIL ADDRESS TO LOGIN
(officer-role@endewearde.eastkingdom.org)
If you are not successful, try your EK member number email address. If you are still not successful, email the webminister.
Use the password you created. If you forgot your password, just click on "forgot password" and you will be guided via email to making a new one.
The webmaster has no idea what your password is; just use the forgot password if you forget – it will be faster.
What You Can Do
You, as an author or editor, should be able to:
delete posts
edit posts
publish posts
upload files
Because we are using posts for all things chronological, this should be fine. Should you need to have a page created, please discuss with the webminister as Authors cannot create pages.
As an author you should:
Create posts about your activities, including announcements
Edit posts related to your role
Use existing categories for your posts
Add events to the event calendar
Edit events on the event calendar
PLEASE DO NOT, without express permission from the original author or the webminister:
Remove posts other authors have created
Edit another's post without discussing it with the author and/or webminsiter
Create categories without discussing with the webminister
WHAT STUFF WILL LOOK LIKE ON YOUR SIDE
This is the DASHBOARD. You'll see it first. You will care about POSTS and EVENTS and maybe MEDIA and PROFILE.

You will not need to deal with COMMENTS, OFFICERS, or TOOLS.

GUTENBERG will give you some instructions and examples of adding content and images to your posts, so go ahead and look at that if you want to.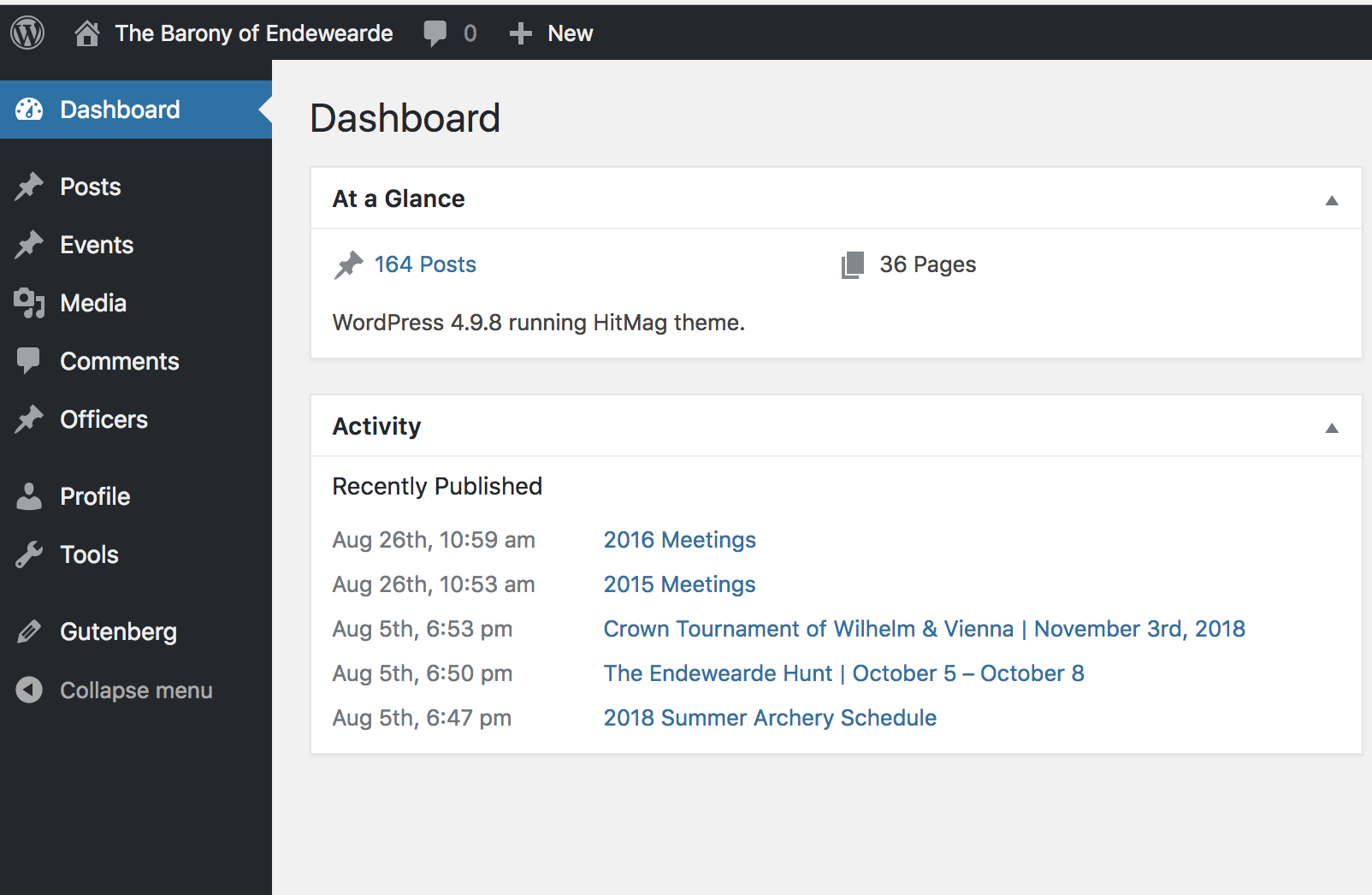 Adding Posts
To make POSTS you'll click POSTS you will see all the posts.
You can make new ones here or edit old ones.
Any time you make changes or want to PUBLISH, PUSH THE BLUE BUTTON ON THE TOP RIGHT AREA. It will say "PUBLISH" or "UPDATE" — without that it doesn't go live.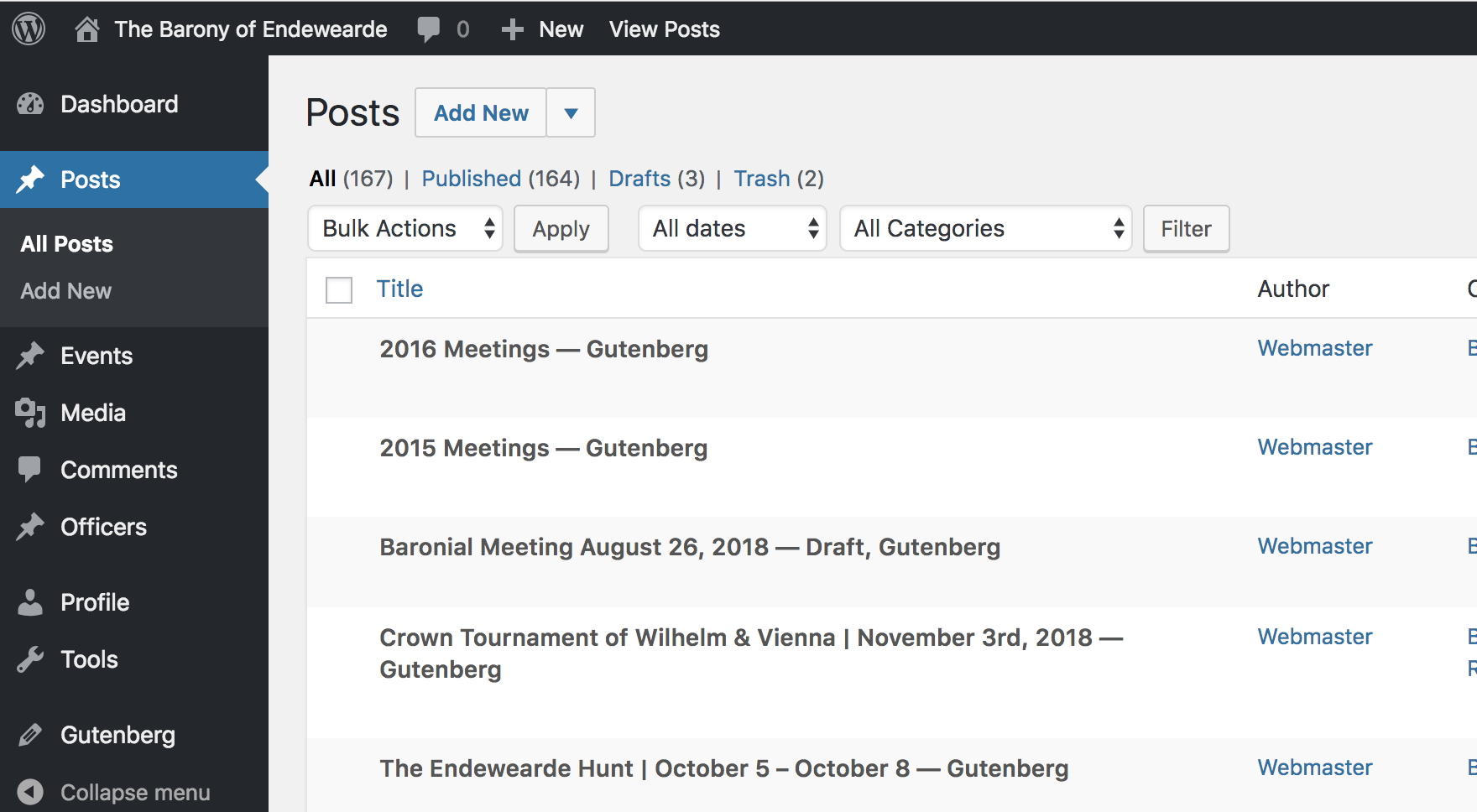 Here's some additional information on writing posts using WordPress.
This is what a new post looks like!
It's very similar to writing an email. You may play about with the feature blocks – go for it! You can "preview" with the top right button, or "publish" with the publish one. Once published, the button will read "update." To save your content, you'll hit that button.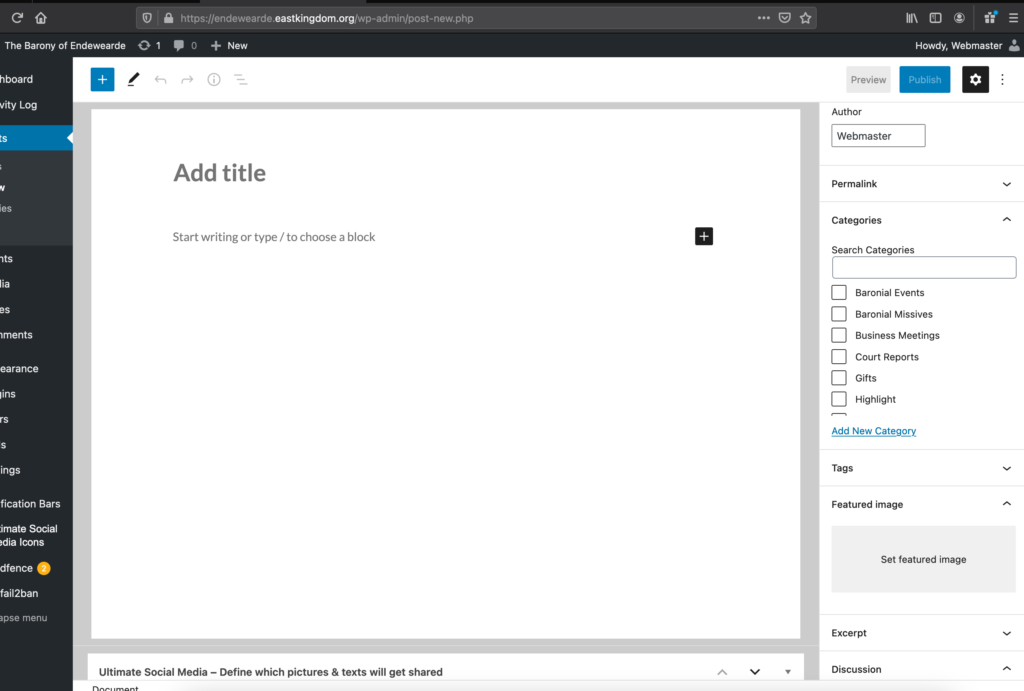 Getting your content to show in the right place:
On the RIGHT HAND SIDEBAR you will see a place called CATEGORIES
Select the right category: each post must have a category (ie, Baronial Missives, Baronial Events, etc). The category is what lets it show up on your page. You may use more than one category (more below on that.)
Please also use a featured image. You can see there's a place to select an image. By clicking on the "set featured image" box you'll get access to the media library. Please try to pick something that's from that space.
If you upload something you've created, please download this form, fill it out, rename it with your name in it and upload it to the media library. https://www.sca.org/wp-content/uploads/2019/12/ReleaseCreativeFillable.pdf
IF you want your item to show up on the TOP BOX on the FRONT PAGE in the top box, choose "HIGHLIGHT" as one of your categories.
Other secondary options that you may use include:
Baronial Events
Practices
Regional Events
Public Events & Demos
Past Events
Just be sure your own category is selected, since otherwise it won't show up on your page at all.
You see a main image (optional), some static content, and then a list of Articles & Information. Each of these articles is a post which is in the A&S category. They automatically show up in chronological order, with the newest addition on top.
Adding Events to the Calendar
Events are really easy. Go to EVENTS, click "add new" and seriously just fill out all the relevant parts of the form. Boom. Done.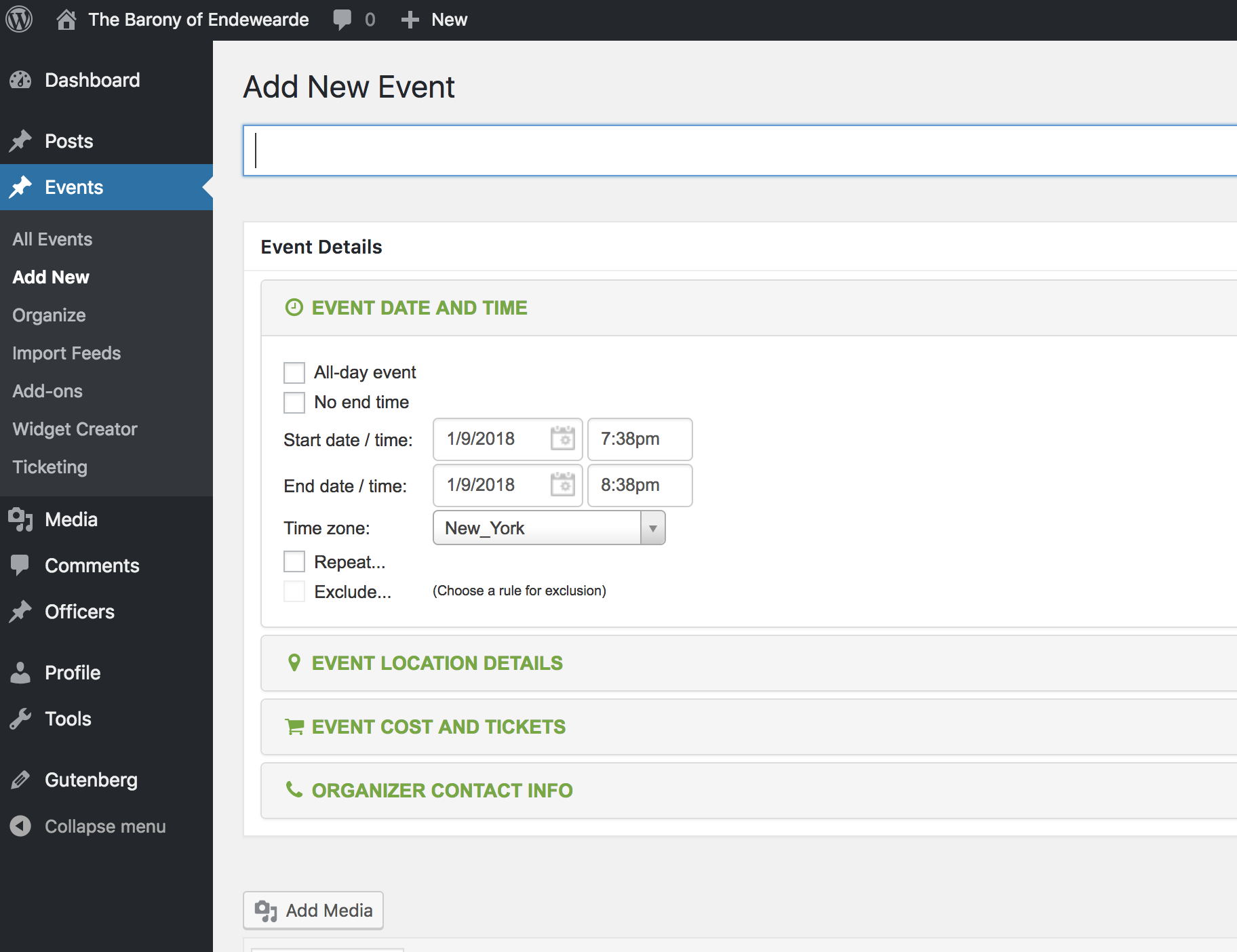 Again, any time you make changes or want to PUBLISH, PUSH THE BLUE BUTTON ON THE TOP RIGHT AREA. It will say "PUBLISH" or "UPDATE" — without that it doesn't go live.
If there's a post about your event on this site, feel free to just use the link to it (here or the EK website link) in the about area rather than filling out a whole description.
Here is some additional information.
It's that easy!
If you have any questions or require help at any time, please reach out to the webminister at webminister@endewearde.eastkingdom.org.